ROAS 1.070%
Ad Spend: €6,024
Revenue: €70,583
E-SHOP: proteinmax.gr
Proteinmax.gr is an e-shop with sports nutrition supplements, offering a huge range of options for anyone wishing to enhance their performance.
Goal
Increased Profits
Considering that it is a company that also runs a physical store, which is currently closed due to the Covid-19, the main goal was to increase the brand's online potential, as well, at the lowest possible cost.
The Solution
Advertising Optimization Strategy
After competitor research, we proceed with testing campaigns on different types of audiences, in order to check which age groups respond better.
Then, we ran a general campaign for all the products, in order to check which of them are in demand and which categories are worth investing in through the budget.
At the final stage, we classified the products that responded better, and we ran campaigns on specific categories, at the same time.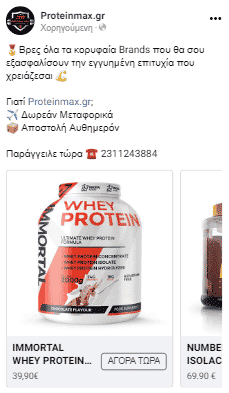 Setting Up a Carousel Campaign [Winning Products]
Having set our key criteria and identified the "Winning Products", i.e. products with the highest demand, we set up a campaign with the TOP 10 of them.
In this case, we proceeded with the carousel layout, since it was the ideal option to present the 10 products that we wanted to promote.
The results exceeded our expectations, while many of the products that we included in the campaign went out of stock more than twice in a very short time.
Traffic Campaign with a 10% discount voucher
In addition to the sales that we achieved, a large percentage of users had added products to their shopping basket, without having completed any other action.
Thus, in order to win over this specific group of consumers, we ran a remarketing campaign aimed at traffic, on the audience that had only completed the action of adding products to their shopping basket, offering a 10% discount voucher at checkout.
Remarketing Campaign
Simultaneously with the main campaign, we set up a Remarketing campaign to target an audience that visited the e-shop during the last 14 days, in order to keep them "hot" by showing them products that they are interested in.
The Success
Immediate Increase in Sales and Turnover
Through the above strategy, proteinmax.gr ended up selling products only online, fully maximizing Facebook advertising performance, and also increasing its turnover, as well as winning over a huge audience that is interested in dietary supplements.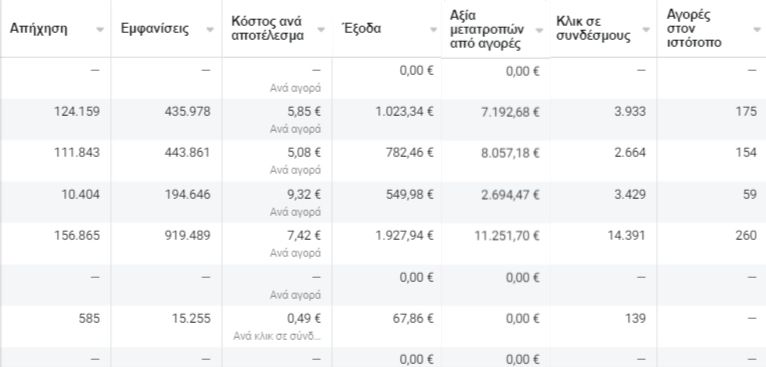 Period: 1/2/2021 – 31/3/2021
Ad Spend 6.024€
Revenue 70.583€
Total Purchases 958
Cost per Purchase 6,28€
ROAS (Return on Ad Spend): 11,7 (11:1)
*Ad Spend is calculated exclusive of VAT
*ROAS: Return On Ad Spend