Dr. Iulia Bosdou is an obstetrician and gynecologist surgeon, specializing in assisted reproduction. She approached our team to shape her digital presence in a way that would combine an appeal to the general public with respect to her scientific expertise.
The creation of a corporate identity for a professional in the field of medicine is a special case; since it should be balanced between the requirements of modern branding and the needs for professional extroversion and digital communication.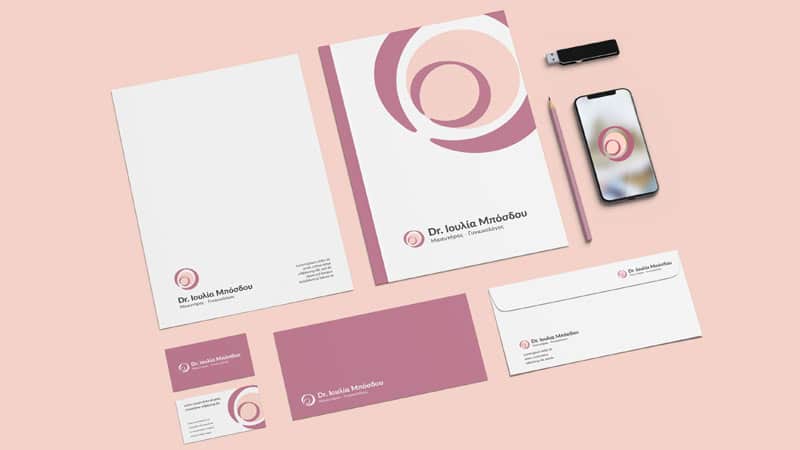 In the case of Dr. Ioulia Bosdou, we chose to capture all that she stands for and her scientific capacity, focusing on the necessary digital and commercially oriented dimensions. In particular, we adopted a clean & stable font that, combined with the symbol that directly refers to the reproductive process and a corporate color palette based on pink, made the stigma of the doctor distinct.
The next step was the production of visual content, both for constructing Mrs. Bosdou's personal website and communicating the medical services she provides. A central position here was the production of a promo video in the physical space of the clinic, where the doctor presents herself, her expertise, and the medical services provided.
The services provided by Dr. Ioulias Bosdou, together with her intense scientific activity at conferences, workshops and invited speeches, formed the central core of her personal website. With a simple and tasteful UI/UX, the doctor's website gives the opportunity to immediately fill out an interest form, in order for an any interested woman to book her appointment.
However, in the modern digital environment, it is not enough to be an accomplished scientist in your field. Additional actions are needed in order to be widely known so as to have several leads for appointments. In this context, our team implemented for Dr. Iulia Bosdou a series of digital campaigns at the level of performance marketing and, specifically, through Google and Facebook Ads.
What was the result? Within a short period of time, many women and couples turned to the doctor to offer them her valuable services. In this way, Dr. Iulia Bosdou managed to create a reliable digital presence and consolidate an extremely strong presence at a professional level.