EUROSTAT has undertaken the planning of a pan-European survey under the title "EU Survey on gender-based violence against women and other forms of interpersonal violence (EU-GBV)" and the National Center for Social Research is the responsible organization for its implementation of the research in Greece under the title "Gender relations, women's safety, and well-being".
The aim of the research is to map and quantify the extent of specific forms of violence against women in Greece to provide a thorough and reliable statistical record, with the ultimate goal of guiding the development of policies that seek to eliminate gender-based violence.
Our collaboration with EKKE aimed to communicate the need to participate in the research. On this basis, we designed and implemented, always in collaboration with a very important organization for social research in our country, a campaign under the title "speak openly" (μίλησε ανοιχτά).
With the message "speak openly", EKKE invites the women who will be sampled to answer the interviewers' questions honestly and, at the same time, sends the message to all women to express without guilt the various experiences of violence that they have suffered.
So, to visualize this message, we designed the campaign logo and created a promo video with animation features, which was posted on a YouTube channel. The video, in fact, aroused the public's interest to the absolute extent, since the users saw it in its entire length (0.16 sec), in their overwhelming percentage (95.7%).
In addition, the main promo video was the central point of reference in two advertorials hosted on important websites of interest to further publicize the action and recruit, if possible, as many viral features as possible.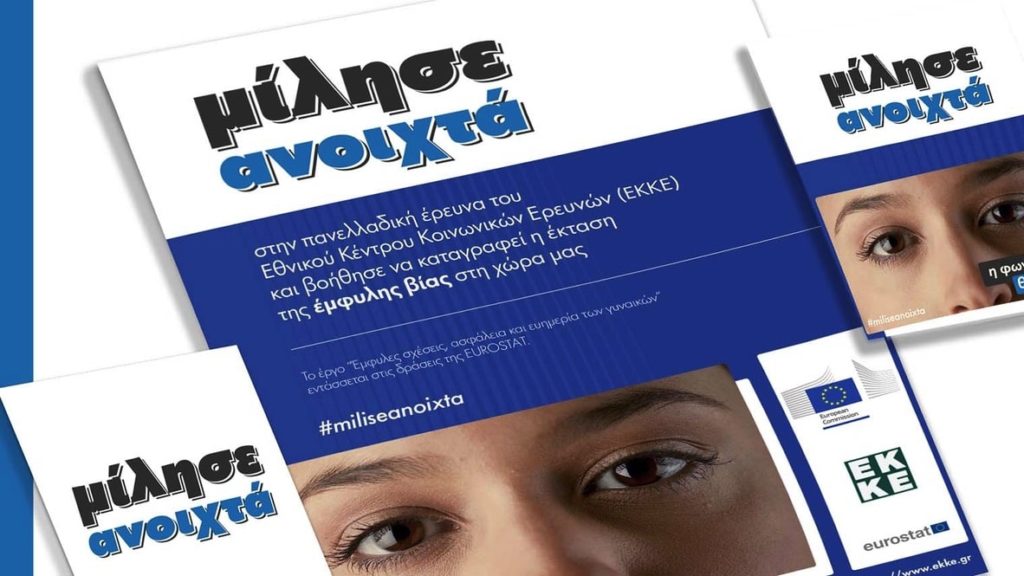 Finally, the campaign was also framed with a series of static creatives which were sent together with an accompanying Press Release, through the collaborating organization, on the occasion of the International Day for the Elimination of Violence against Women.