All Around Fun is a Greek company, whose online store offers innovative educational games for all ages. The love for children's creative entertainment was the source of inspiration for an eshop where parents can find, in addition to the extensive collection of toys, from school supplies and children's room decorations to party supplies and Halloween costumes.
All Around Fun turned to our team to reconstitute its corporate identity through a logo redesign, and to conduct digital campaigns on social media (Facebook & Instagram) and the Google platform, with the aim of brand awareness and growth of online customers.
The logo re-design should have been in line with the needs of the corporate identity of an eshop, but not fall short in terms of the meaningful capture of the philosophy of All Around Fun. Thus, the logic of educational entertainment was rendered through the creative composition of a preschool puzzle, composed of playful color combinations and symbolized by the shape of a house reminiscent of a children's drawing.
The updated and digitally oriented corporate identity let us adopt a renewed style to the packaging of All Around Fun, the image of which now consists of a more distinct imprint and exudes a more fresh & confident style.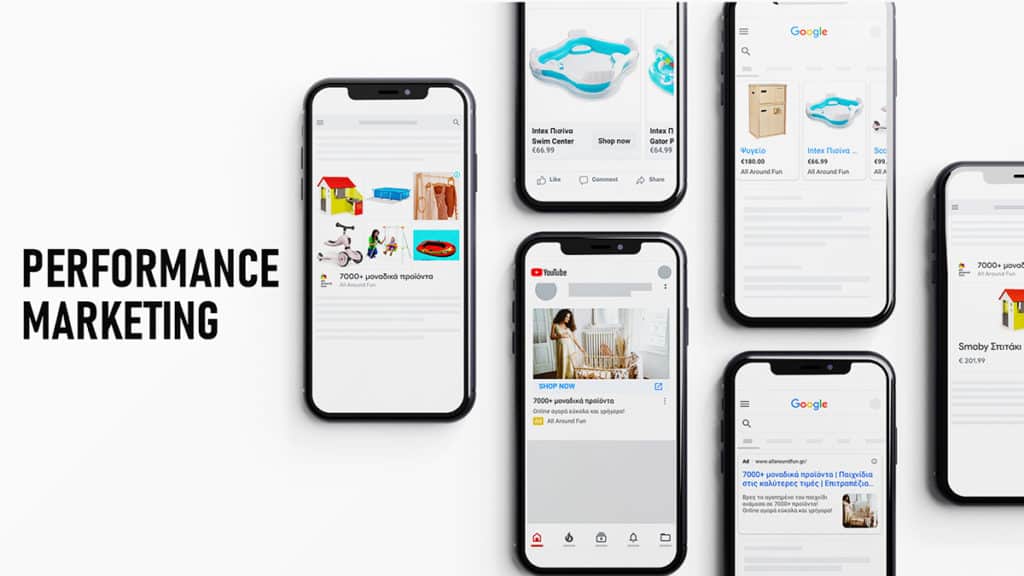 Performance marketing actions that generated a flow of leads for All Around Fun's premium products included, but were not limited to, creating segmented ads for the Google platform, building custom ad audiences, and producing different visuals for multi-channel presence and conducting continuous testing to optimize performance.
The renewed corporate identity and the targeted digital sales marketing strategy were framed by communication through social media, which was implemented with the aim of producing commercial, informative and entertaining content in an aesthetic feed that respects the values of parental care and, at the same time, adapts to the aesthetic preferences of our little heroes.
All Around Fun has succeeded by updating the corporate identity and implementing successful campaigns for awareness and attracting prospective customers to associate its name with the concepts of educational fun, creative engagement and children's joy.