ROAS 277%
Ad Spend: €6,322
Revenue: €23,861
E-SHOP: allaroundfun.gr
The All Around Fun company was founded in the last quarter of 2020, and operates in the toy industry. Its product portfolio is mostly composed of children's toys, board games, and doll houses, although it also offers seasonal items, such as Halloween costumes, Easter candles, and Christmas items.
The Goal
Economically efficient conversions
Considering that it was a new company without any social media presence and zero e-shop traffic, the challenge that we had to address was huge. This was due to the fact that, on the other hand, it was required to make dynamic entry to the market, and on the other hand, because this entry should also be followed by results, since the Christmas season was approaching, and it was a chance for the brand to show its potential.
The Solution
Designing an Advertising Optimization Campaign
We started with competitor research, in order to check how similar brands in the industry communicate the product, so that we can identify any weaknesses, and overcome them.
Then, we proceeded with running testing campaigns on products and audiences, in order to check what works best and efficiently in this industry, as well as which consumers respond better.
Having determined our key criteria, we proceeded with setting up a campaign, according to the results that collected.
Setting Up a Dynamic Ads Campaign
After we performed extensive testing by comparing moving image ads (carousel) with other types of advertising, we concluded that the carousel had better results.
Therefore, we chose to proceed with dynamic ads by presenting successive images, in order to attract the audience through an impressive range of images with relevant products.
Campaign Optimization
Campaign optimization based on the conversion rate played a key role in the end result. The campaign started with a daily budget of €10, and both the budget and optimization gradually increased, reaching up to €100 per day, remaining profitable throughout.
Through gradual optimization and continuous monitoring of purchases, both online, and over the phone, we managed to exceed the expected goal by far.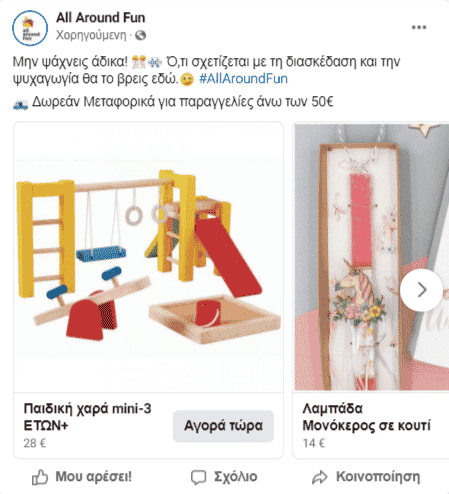 Lookalike Audiences and Remarketing
Therefore, having collected enough data from the audience visiting the e-shop, allaroundfun.gr, we targeted lookalikes, in order to target more prospective customers (leads).
At the same time, we set up a Remarketing campaign, targeting custom audiences that have visited the website before, in order to remind them of the products that they had searched for.
The Success
Immediate Rise in Sales and a Strong Market Position
Through the dynamic ads campaign that was based on budget optimization, AllAroundFun made a dynamic entry to the industry, acquiring a fair market share in the toy industry, and increasing its profits from Facebook ads.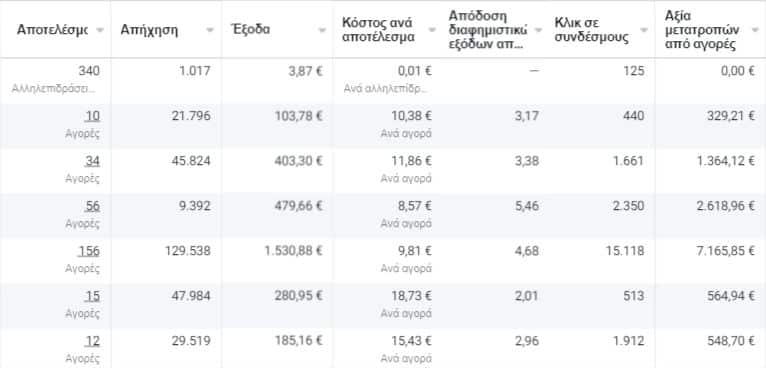 Period: 1/1/2021 – 31/3/2021
Spend 6.322€
Revenue 23.861€
Total Purchases 539
Cost per Purchase 11,7€
ROAS : 3,74 (4:1)
*Ad Spend is calculated exclusive of VAT
*ROAS: Return On Ad Spend
Additional Techniques for Promotion and Increased Recognizability